Shrimpware Fine Wood Inlays
I make wood inlays suitable for use in your own projects. Each inlay is precision laser cut. They have a circular profile so it is easy to route a receiver to take them. Typically a wood craftsman will cut the receiver so that the inlay sits slightly proud of the finished level, then fill the voids with resin, putty, or some other material and sand it all flat. The inlay itself is untreated wood.
I can make the inlay in any size. The inlays can also be cut from other woods. It is also possible for me to incorporate your own artwork into a custom medallion; please contact me for a quote.
Note that for some of the medallions the inner design continues into the surrounding ring. In these cases the outline of the art that is cut into the ring is about 20% of the depth of the medallion. If you sand below that point the design elements in the outer ring will disappear. This can be desirable, or not, depending on your own design intent. If you want the outlines to exist in your final piece then route the receiver deep enough to hold at least 90% of the medallion.
I prefer payment via Paypal. I ship USPS Priority or first class. Sales tax and shipping is included in the price.
I am working on more designs now and this site will be updated as they become available.
For orders or additional information, please contact us by email at:
Fission 1
Shown in walnut, 0.125" thick.

Price Tier A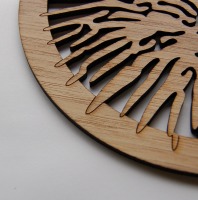 Cleaving 1
Shown in red oak 0.25" thick.

Price Tier A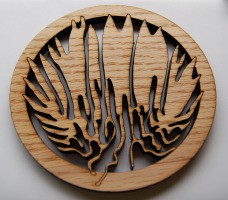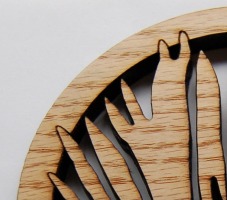 Mosaic 1
Shown in walnut, 0.125" thick.

Price Tier B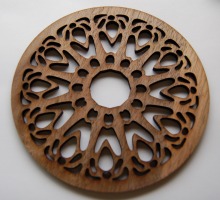 Mosaic 2
Shown in red oak, 0.25" thick.

Price Tier B